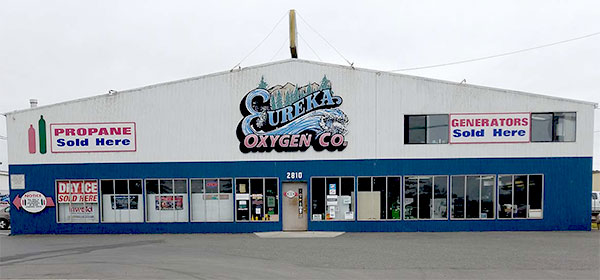 Eureka Oxygen is where we started. Situated outside the bustle of downtown Eureka, away from the city blocks and traffic lights, it is nestled between the estuary and Murray Field Airport. So there are no problems finding parking or money for parking meters. On a clear day, with a good nose, you can inhale the eucalyptus scents from the grove along the far side of the safety corridor on Highway 101. It's a good place to do business, and Eureka Oxygen has been doing business there since 1946.
What possible need for welding supplies could there be up in this most beautifully remote of locations? As the county seat of Humboldt County, Eureka is the nexus for most of the business and industry of the county. Beyond the city limits of Eureka it only becomes more remote – access for full-length semi-trailers through the Avenue of the Giants being virtually nil. Still, the dairy truck delivering product out of the Fortuna-Loleta headlands and the Arcata bottoms need maintenance and repairs. Logging is not what it once was, but what it is still requires manufacture, repair, and maintenance for skidders and logging dollies. In an environment where it's a toss-up whether rust or mold will demolish a structure faster, metal is still the preferred construction material for industrial-use buildings. All of these require cutting and welding and these people turn to Eureka Oxygen to supply them with Victor Torches, Miller Welders, Lincoln Welders, and much more.
The humble harbor of Humboldt Bay should not be dismissed as irrelevant either. Although the logging traffic has diminished dramatically over the past few decades, there are still barges leaving for distant ports with loads of Humboldt timber. Those barges, the tugs that tow them, the docks from which they leave – all require welding services for construction, repair, and maintenance. These service providers come to us with their needs. Anything from Oxygen for diving to underwater electrodes, we have all their welding needs.
As logging subsided, it was supplanted as a revenue stream by another, but very renewable, form of horticulture – cannabis. As the sophistication of that industry has grown exponentially, the need for several different inert and volatile gases has grown. We were already in place with what growers needed, and poised to provide them with CO2, dry ice, ethanol, and many other items.
So, whether you're fabricating trailers, plasma-cutting sculpture pieces, or extracting the finest of hash and oils, Eureka Oxygen is the spot in Humboldt County (Del Norte, Trinity, and Siskiyou too) for thorough, professional supplies and salespeople.