The season for pumpkin spice lattes, cozy scarfs, and the smell of autumn leaves is upon us, and many households may need to start considering preparing their homes for the colder months ahead. One important way to begin your preparation includes deciding to store your cylinder gas until the warmer months are upon us again. Unsafe storage of gas poses many dangers, therefore it is of utmost importance that proper and safe storage practices are observed, not only in the colder months, but year-round.
Improper cylinder gas storage puts your family and home at risk of critical safety hazards, including accidental fires resulting from leakages happening in close proximity to an ignition source. By taking the following tips into consideration, you can keep your family and your home safe by practicing proper storage of your gas when it's not in use during the colder months. Here are some tips to consider:
Always store your cylinder gas outdoors, even in the winter
Ensuring that your LPG gas is stored outdoors in a well-ventilated area at all times is of utmost importance, no matter the weather conditions. This means that cylinder gas should not be stored inside your home, in the basement or crawl space, or even within attached or detached garages or sheds. Cylinder gas tanks release harmful carbon monoxide that could affect the quality of your indoor air.
Storing your tank inside can also cause dangerous temperature changes within the tank. The freezing temperatures of cold winter months do not reach temperatures low enough to affect gas that is stored in cylinders. However, exposure to snow and moisture may compromise the cylinder's structural integrity, which will heighten the risk of dangerous leaking hazards occurring. Because of this, it's always a good idea to make sure that you cover the cylinder gas with a plastic tarp, and pick an outdoor storage area where it can't be affected by the elements.
Clear snow and ice off your tank
Remove snow and ice on top of your propane tank's various components to prevent damage that could cause a gas leak.
Refill your tank
Once you notice the tank level dropping below halfway, refill your tank so that your home has enough fuel to last you through the winter. You always want to be prepared in case of an emergency or snow storm and you also want to make sure you have enough gas to keep your home warm.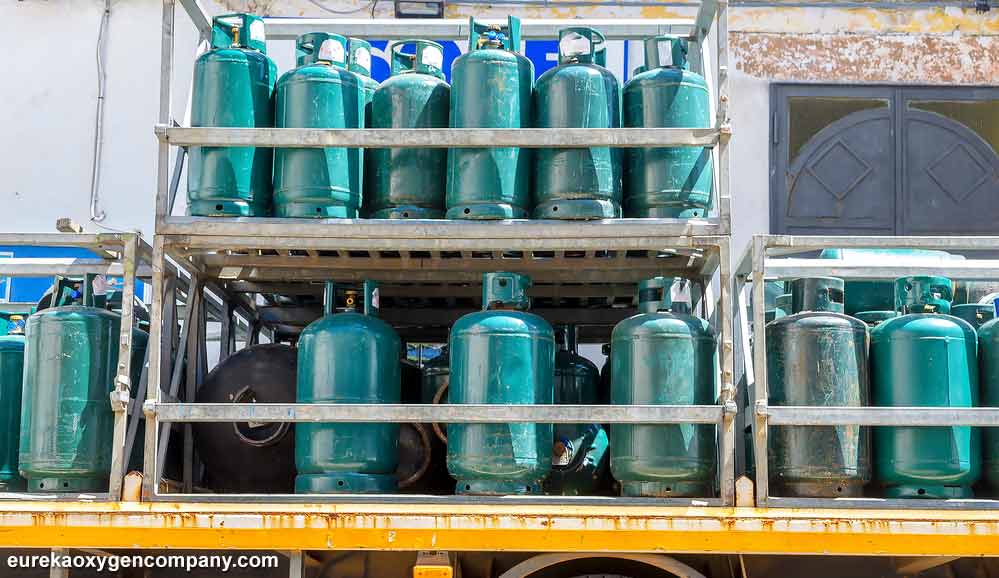 Make sure you store your cylinder gas in an upright position
Secondly, you ought to store your cylinder gas in an upright position at all times. Doing so will be a smart precaution against the likelihood of the gas leaking, an occurrence which tends to be very common when LPG gas cylinders are stored in the horizontal position. At the same time, it is highly advisable that if possible, you make sure to place the cylinder on a slightly elevated, sturdy, and flat surface. This will ensure that the likelihood of it being knocked over accidentally is substantially reduced.
Make an annual maintenance appointment
Schedule an inspection with a technician who can inspect your tank and repair minor problems to prevent emergencies. Technicians can help complete a number of checks to ensure your tank is safe to store, including determining whether there are any leaks in the valve or the tank itself.
Eureka Oxygen is a leading vendor of welding equipment, welding supplies, and safety gear. We also offer a variety of cylinder gas products to both consumer and commercial users. Check our contact information and location list to schedule an appointment!