The Best Eco-Friendly Welding Safety Equipment
Safety is always essential in all welding operations. The moment proper precautions are in place, welding is a safe occupation. However, whenever such measures aren't observed, welders can be exposed to all sorts of hazards that tend to vary in seriousness. This may include electric shocks, exposure to toxic fumes and gases, fires, and even explosions. To guarantee welding safety at all times, agencies like OSHA and ACGIH have put in place a number of safety guidelines that help reduce and control hazards to enable welders to remain safe and in sound health. Let us now review some of the most prominent safety hazards in the welding industry.
Electric shock 
This is one of the most dangerous and immediate hazards welders can be routinely exposed to if the right precautions aren't observed. Electric shocks can cause severe injuries and in the extreme, even death, either from the shock itself or falling accidents triggered by the welder's reaction to them. The most common shock that these professionals experience is secondary voltage shock from an arc welding circuit ranging between 20V to 100V. AC voltage is the most dangerous since its current polarity constantly changes and is more prone to stop the heart than DC voltage. To avoid such hazards, welders must wear dry gloves and clothing which are in excellent condition and ensure they insulate themselves from the work they are engaged in and the ground.
Toxic fumes and gasses 
Prolonged exposure to toxic welding fumes and gases is particularly hazardous to welders. Many fumes produced by the welding process come with very toxic metal oxide compounds that originate from consumables, base metals, or even base metals coatings. This means it is very critical for welders to don PPE including respirators and full-face masks that can filter out these toxic fumes from the air they inhale. Also, welding workspaces need to be well-ventilated and fitted with local exhaust and fume extractor systems to expel these toxic fumes from the welder's breathing zone.
Fires and explosions 
Welding arcs are known to produce extremely high-temperature levels, and can invariably pose a safety risk in triggering substantial fires and explosions. In some circumstances, welding arc heat can reach temperatures of no less than 10,000oF. The real risk isn't the arc itself, but the sparks and spatter it produces. Often, these debris can be propelled up to 35 feet from the welding workspace and can easily land on flammable materials and cause an inferno. Welding safety equipment including fire alarms and extinguishers are designed to anticipate such hazards and contain them. The welder must wear suitable PPE to avoid bodily injuries such as burns, which are by far, the most common injuries they experience. Some handy PPE include heavy flame-retardant gloves and helmets with side shields to protect the eyes and the skin.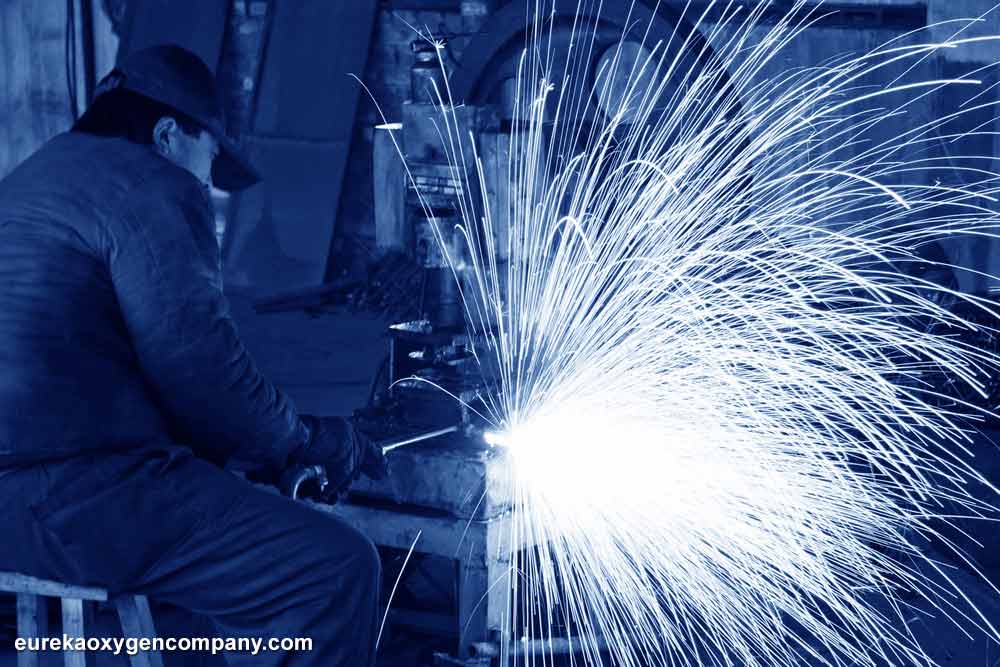 Eco-friendly welding safety equipment
As it was earlier noted, the welding process is known to create toxic fumes that can harm not only the welder, but the environment too. It is always wise to put in place sustainable welding practices including embracing the use of eco-friendly equipment. Today, there is a wide variety of welding equipment which can help you significantly reduce your facility's carbon footprint. Also, there are innovative welding technologies that minimize the utilization of energy and toxic production resources such as filler metals and flux.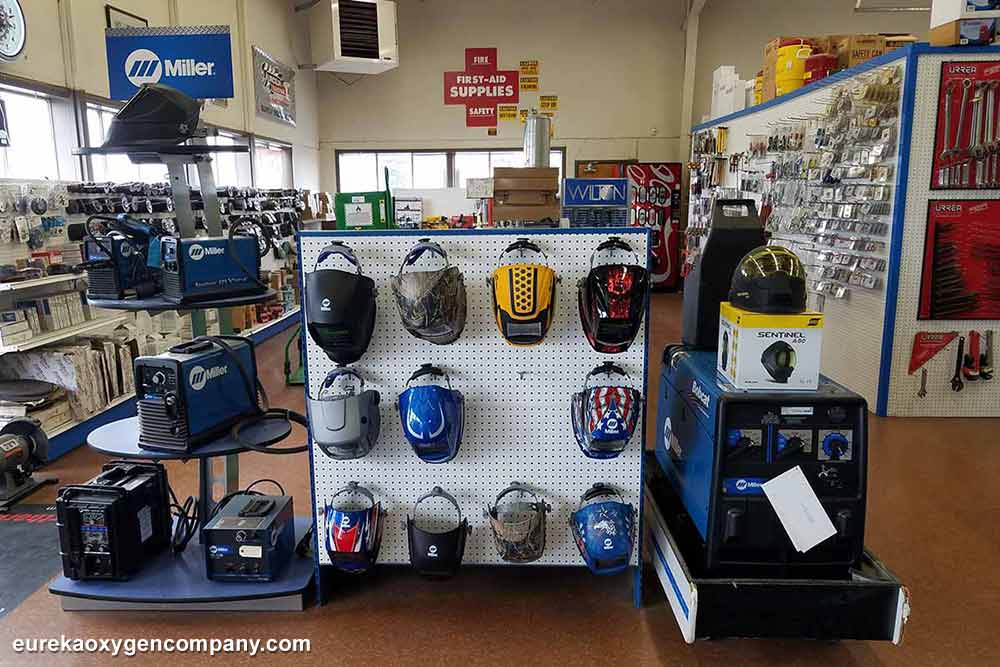 There are promising innovations like MAG welding processes that are not only efficient, but eco-friendly, quick, and precise. Laser gas metal arc welding has as well been proven to be a sustainable welding process that requires very minimal filler material. At Eureka Oxygen, we believe that welding safety and sustainability are the way forward and stock a variety of welding equipment and welding supplies that meet both these needs.
Regardless of which application you choose and whose equipment you choose to implement it, there's always one more step – the first and last step – safety. Most reputable manufacturers carry their own line of safety equipment – and are joined in that corner of the marketplace by independent accessory purveyors. All of these options are available to you at Eureka Oxygen and are OSHA-approved. From head to toe, we carry helmets (and under the helmets, caps), safety glasses or goggles, jackets, aprons, gloves, sleeves, chaps, boots. None of them are optional once they prevent an injury!
Equally important – if not more so – are the environmental safety features. Fume extractors can be the difference between life and death, between healthy workers and premature disability, and workmen's compensation claims. The FiltAir series of fume extractors from Miller ranges in capabilities from the FiltAir 130, weighing in at only 46 pounds, with an 8-foot collection hose and a 20-foot power cord, to the FILTAIR 400 High Vacuum System, which is also ideal for use with the new Bernard™ FILTAIR® Fume Extraction Gun – maximizing suction without affecting shielding gas, resulting in efficient source-capture of weld fume particles. 
For larger facility-wide fume extraction applications, there is the FiltAir 2000 through 12000 series, operating at 460V and 5HP through 30HP, respectively. The Miller FiltAir technological advantages provide more efficient air cleaning from longer-life filters and smaller footprint equipment. Bringing the realm of air quality mediation back to the personal, Miller also provides first-in-class respiration equipment for situations that require it – both half-mask reusable respirators designed to fit independently under a welding helmet; and lightweight, low-profile, belt-mounted, powered air-purifying respirators that reduce weld fume exposure, increase safety and assure compliance when used in conjunction with the Miller Titanium series helmets. Eureka Oxygen also offers diverse industrial equipment and industrial gases that are used in many welding processes. Stop by today!