Hypertherm was founded in 1968 by Dick Couch and Bob Dean after they invented a water injection process that went on to launch the plasma cutting industry as we know it. The amazing journey began in a humble 2-car garage, and the invention shaped the trailblazing future of Hypertherm and the industrial cutting sector. The 2 founders discovered an innovative means of creating a much narrower plasma arc, which could cut metals quicker and more precisely than before. 
As the decades passed by, Hypertherm's founding principle of innovation has enabled it to separate itself as a company from the rest of the pack. This is particularly the case when it comes to the field of product development. With the passage of time, Hypertherm has also ventured into other manufacturing pursuits. It now offers other products besides plasma cutters including laser and waterjet systems, motion controls, robotic systems, and a variety of industrial cutting consumables. All of which continue to dominate their respective niche industries and outperform most other alternative products in terms of cost-efficiency, improving cutting quality and operator productivity. Let us now take a look at some of the celebrated patented innovations Hypertherm has been able to introduce in the industrial cutting industry and beyond.
Hypertherm's patented innovations 
Hypertherm at the moment boasts of almost 500 global patents for the numerous innovations it has been able to introduce in the market. To this end, it allows a sizable part of its corporate resources every year to fund its product research, development, and testing efforts. This has earned Hypertherm the distinction of being able to stand apart from all other manufacturers worldwide.
Hypertherm's plasma cutting innovations 
As it was earlier noted, Hypertherm had the honor of unveiling the very first water injection process that is now widely credited with laying the foundation of the plasma cutting sector. This company continues to conduct more and more research and development of newer products in this particular niche industry that set the standard in terms of innovation.
Hypertherm's laser cutting innovations 
This company is also credited with launching the very first integrated fiber laser system, which was specifically optimized for cutting applications. Today, Hypertherm continues to innovate and introduce newer laser cutting systems for some of the biggest laser OEMs in the world.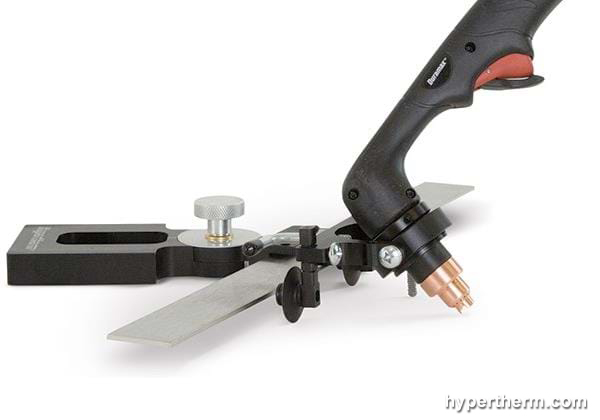 Hypertherm's automation innovations 
Hypertherm is a leading global innovator when it comes to the field of automation and robotics. As such, over the years, it has been able to introduce a horde of cutting automation products including robotic torches that are widely acclaimed for the numerous improvements they have brought about in cut precision, efficiency, and productivity. Hypertherm introduced its proprietary Phoenix Software, which was designed to serve as the core operational interface for all of the company's CNCs. Since its inception, Phoenix has gone on to raise the bar in the context of improving functionality and ease of use in the automation industry. Also, Hypertherm's CutPro wizard allows even new operators to master this craft in no more than 5 minutes.
Hypertherm's cutting consumables innovations 
Every single year, Hypertherm unveils new patented technology in its efforts to improve the overall performance and prolong the life of industrial cutting consumables. Apart from its own Centricut and AccurStream consumable brands, Hypertherm offers its technology and manufacturing capabilities to non-Hypertherm systems too.
Let us now take a quick look at some of their most notable product offerings available in the global market.
Hypertherm Duramax Hyamp Torches 
The Duramax Hyamp torch series is specifically geared to deliver reliability and durability when it is most needed in plasma cutting operations. These products are built to handle with ease the full 125 amp output of Hypertherm's most powerful plasma cutting systems. This most prominently includes the popular Powermax 125 along with other lower amperage Powermax systems.
These kinds of torches are to be had for both handheld and machine cutting along with gouging applications as well as robotic cutting applications. The Duramax Hyamp torches are also designed to be seamlessly compatible with diverse consumables. This includes those for applications like gouging, fine-feature cutting, extended reach cutting, precision gouging, and cutting and cutting flush to base materials. 
Hypertherm cutting accessories
Hypertherm as well provides a wide variety of cutting accessories. This may include Hypertherm cartridge adapters, plasma bevel cutting guides, long torch sleds, torch adapters, robotic teach toolkits, torch alignment guides, oil removal air filter kits to mention but a few.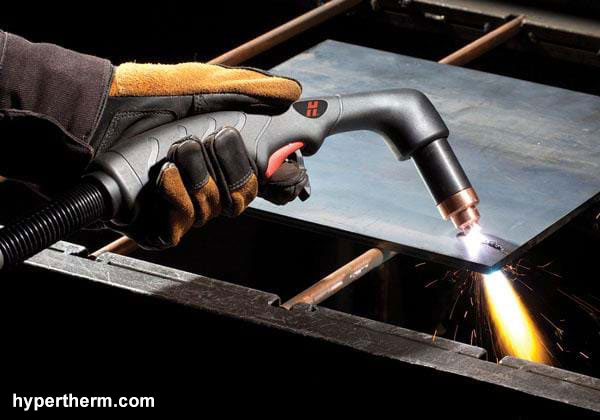 Eureka Oxygen is a leading vendor of welding equipment and welding supplies from some of the most globally-acclaimed brands like Hypertherm and many others. We are proud to partner with such trusted brands and we also deal in a variety of top-quality industrial equipment and industrial gases.