Previously, air-powered hand tools, otherwise known as pneumatic tools, were the sole preserve of professional contractors, industrial workers, and even mechanics. However, today, these hand tools are more common than ever. Nowadays, these devices are the tools of choice for many do-it-yourselfers and property owners who use them to perform their home improvement projects. When compared with other alternatives currently made available in the market, air-powered tools are not only powerful, but very easy to utilize too. Also, they are known to deliver a number of key benefits that place them in a class of their own whenever contrasted with the regular and electric-powered varieties.
Generally speaking, pneumatic hand tools make use of pressurized air to carry out their various functions. When they are connected to a compressed air source, the pneumatic motors of these equipment set to work by converting air into energy. The moment this has been achieved, all the user needs to do is simply pull on their triggers for the gadgets to operate as required. Since air-powered tools use air, they are usually the equipment of preference for performing work in hazardous environments including damp and flammable settings. At the same time, most sorts of these hand tools integrate a compact, lightweight construction. In turn, this makes them well suited for work in cramped places. Lastly, pneumatic devices, in general, tend to be more affordable and their maintenance needs are also more economical than the electric-powered varieties. Here then are a few examples of the most common air-powered hand tools currently to be had in the market.
Air impact wrenches
The air impact wrench is specifically designed to unscrew bolts and nuts much faster than traditional wrenches. The unmatched efficiency and ease of use of these hand tools have established their reputation of being the go-to solution for automobile mechanics along with construction workers. Air impact wrenches are noted for delivering high torque output even when the user exerts a slight effort to operate them. 
When they have been linked with air compressors, these gadgets are in a position of unscrewing even the most stubborn of bolts, nuts, pins together with other fragile objects without in any way causing damage to them. It is important to note that the air impact wrench happens to be the most powerful kind of wrench currently made available in the market. Its overall maintenance is also very easy and simplistic.
Air-powered screwdrivers
One of the most prominent benefits of pneumatic screwdrivers is their unparalleled capacity to screw in plenty of screws without triggering severe hand and forearm fatigue to the user. They are also very efficient and swift when it comes to screwing things. Air-powered screwdrivers come complete with a pistol shape and integrate an ergonomic grip. Both of these features make them infinitely easy and comfortable to operate for prolonged periods of time. Besides this, most pneumatic screwdrivers incorporate a preset torque setting, and this enables users to avoid stripping threads or screw heads because of overtightening. As they function thanks to pressurized air, the power of air-powered screwdrivers is always consistent, and they don't necessitate recharging. Ideally, these devices are the hand tools of choice for executing most industrial work because they allow workers to perform their tasks faster and more efficiently.
Air-powered sprayers
When compared with most other alternatives, air-powered sprayers are definitely the most convenient sort of paint sprayers to use. They utilize compressed air to be able to efficiently apply paint on big surfaces which always culminates in very smooth and professionally-looking finishes. They are as well much quicker to carry out most paint jobs than paintbrushes or even rollers. Pneumatic sprayers are highly acclaimed for delivering better control and atomization than other alternative sprayers in the market. Air-powered sprayers are also cheaper than most other industrial paint sprayers.
Air nailers
An air nailer goes to work by driving nails into wood and other materials as a traditional hammer would, but instead, it relies on pressurized air to do the job. Air nailers are especially suited for carrying out heavy-duty nailing tasks in a remarkably quick and hassle-free manner. On a parting shot, other common air-powered hand tools include air hammers, air drills, tire inflators, pneumatic staple guns, pneumatic sanders, pneumatic grease guns to mention but a few.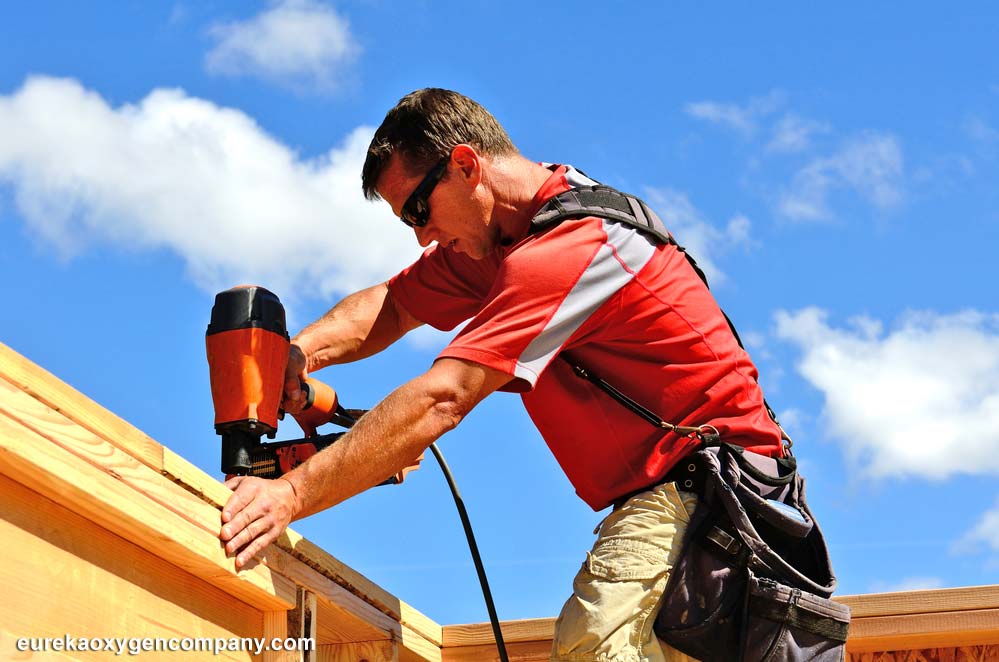 Eureka Oxygen is a noted vendor of top-notch welders, welding supplies, welding equipment sourced from the industry-leading brands in the global market. It also provides the finest welding safety products along with other related items such as cylinder gases.