You never know what might occur tomorrow, and it is always essential to be fully prepared for any eventuality. To this end, should a fire break out in your home or business premises, it pays to invest in the right fire suppression equipment. This will be just what you need to minimize the risk of lost lives or even extensive damage to your property. So, doing so will be just what the doctor ordered to put out any fire that may ignite in your building as soon as possible. As such, a proper fire suppression system may prove to be a godsend should you ever be forced to deal with all sorts of fires. It will as well provide you with the peace of mind of knowing you are protected where it truly counts even if you won't be obliged to use it. There happen to be diverse fire suppression equipment that are currently made available in the market, and It's always important to fully understand how they function, and if they can seamlessly suit all your needs and preferences. Well, let us now take a closer look at the most prominent kinds of fire suppression equipment out there.
Fire Extinguishers
Fire extinguishers are classified as first-attack fire fighting measures which can be carried out by the occupants of a building prior to the arrival of professional firefighters. It is always critical to make sure all inhabitants of your house or commercial building are well versed with just which fire extinguisher type they should utilize in accordance with the exact type of fire that can occur. Generally speaking, many fires break out small, and can often be put out once the proper type and amount of extinguishing agent are employed while the fire is still controllable. With this in mind, water is a good extinguishing agent for combating wood or paper fires. On the other hand, foam is well suited for flammable liquid fires. Alternatively, carbon dioxide is at its best when used to fight electrical fires. On the flip side, wet chemicals are often prescribed for extinguishing fat-based fires. Lastly, dry chemicals can be effectively utilized to combat both flammable liquids as well as electrical fires.
K-Type Fire Extinguishers
Generally, fires are categorized by the exact class of fuel which ignites them. This classification also determines what extinguishing agent can be effective in dealing with them. One of the trickiest and most dangerous fires is the Class K fire that often occurs in kitchens and necessitates a unique agent to control it. Ideally, Class K is kindled by flammable liquids that are used in cooking including cooking oils and fats and animal-based or vegetable-based grease. Class K fire suppression extinguishers have been specifically designed to fight off this kind of fire. They utilize extinguishing agents which set to work by starving the fuel of oxygen. They as well assist in absorbing the heat elements of the fire triangle (fuel, heat, oxygen, and chemical reactions). Class K extinguishers make use of a wet alkaline solution such as potassium carbonate, potassium citrate, or even potassium acetate. These solutions interact with the cooking oil or grease to create a foam which effectively blankets and cools them down and prevents them from being fed with oxygen.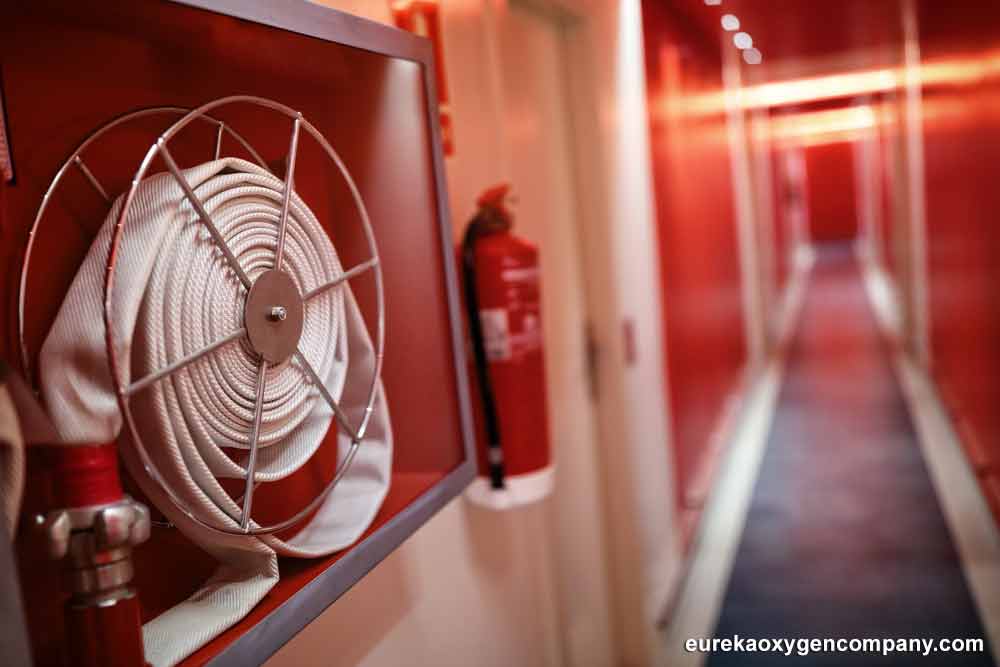 Fire Hoses and Reels
Fire hoses and reels are yet another example of first-attack fire suppression measures which are utilized to contain fires before professional firefighters can arrive on the scene. Fire hoses and reels are usually situated in close proximity to exits and in the event of a fire, occupants in the affected building may reach a place of safety just by following the hose.
Active Fire Suppression Equipment
Active fire suppression equipment is those that are specifically designed to be used as a direct physical action in the efforts of reducing a fire's growth rate and deter the migration of smoke. This, of course, includes fire sprinklers along with smoke control devices that are activated manually or automatically. In the first place, fire alarm systems are put in place to detect the presence of fire and may be activated by either smoke or heat. Once this occurs, they then can activate fire extinguishing systems or/and alert the occupants of the concerned building and the local fire department.
On their part, smoke control systems are meant to help in limiting the spread of smoke to ensure egress routes remain usable for a certain period of time. Finally, automatic sprinkler systems deliver top-of-the-line protection for both lives and property in the event of a fire breakout. Essentially sprinkler heads are simply automatic taps that are linked with pressurized water systems. When a fire achieves a specific temperature, the pressurized water is then sprayed on the fire. This water can as well soak combustible materials that are in close proximity to the fire, making them hard to ignite. This goes a long way in slowing the fire down and preventing its growth.
Eureka Oxygen is a leading supplier of a wide variety of the finest fire suppression equipment currently made available in the market. It also specializes in offering diverse welding equipment, welding supplies, and welding accessories.