Uniweld is a US-based manufacturing business, which is headquartered in Fort Lauderdale, Florida. It was founded in 1949 on a farm in the Dania Beach Area. Over the preceding decades since then, Uniweld has thrived and expanded its operations on a national and international scale. With the passage of time, it has solidly positioned itself as a major player in the global welding equipment, HVAC/R Plumbing, and alloys industries. Ever since its establishment, it has been ably led by its founder and president David Pearl Sr., who has been helped by his two sons, David Pearl Jr. and Douglas Pearl. Uniweld can truly be termed as a family-owned and operated business establishment. This novel concept has, over the years, filtered down to every single one of its employees who have for long being considered, for all intents and purposes, as being part of the Uniweld family.
In 1999, the company's facility in Fort Lauderdale was seriously damaged after a major fire broke out on the premises. However, unlike what some other less reputable companies would have done, Uniweld in spite of this unfortunate occurrence kept all its staff on its payroll. These employees were also given an essential role in the consequent rebuilding process. Today, the company is headquartered in new business premises that are now home to a state-of-the-art manufacturing facility. Thanks to numerous engineering innovations, improvement, and highly advanced research and development, Uniweld has been able to introduce game-changing products that are also safer to the environment as well. Its varied range of products includes welding supplies and equipment, cutting and brazing tips, heating outfits, and kits, alloys, accessories to mention just but a few. The company now operates and maintains different facilities and warehouses in Las Vegas, Nevada, and Houston, Texas. It has as well-established branches in Canada, South America, the Middle East, and even Asia. Uniweld's success story is one of manufacturing excellence, innovation, fiscal stability, excellent employee care, and heartfelt concern for all its customers from all across the globe. Here then are some of the most products Uniweld offers and which are made available on Eureka Oxygen.
Uniweld KC100P Centurion Weld/Braze Outfit with 511 Plastic Carrying Stand
The Uniweld KC100P happens to be a contractor-grade and portable welding and brazing outfit. It comes complete with 2 welding/brazing tips, which can be used in a convenient and hassle-free manner for brazing the upwards of 1" copper tubing. It may also be the right solution to welding the upwards of ⅛" steel. This outfit also features single-stage Centurion Series regulators that integrate protective rubber gauge boots. Not to mention a front valve welding handle that features stainless steel ballpoint valves that facilitate precise gas control. Lastly, the KC100P outfit comes complete with welding safety goggles with flip-up lenses which have been specifically designed to make room for prescription eyewear.
Uniweld Type 17-15 Rosebud Heating Tip
The Uniweld Rosebud tip may be made use of either oxygen or acetylene to achieve maximum temperatures of up to 5600O Fahrenheit. As you probably know, rosebud tips are the finest solution when it comes to brazing, pre-heating, annealing, straightening, bending, forging, and more. The overall length of this welding tip is 7" and can be suitable for up to 2- ⅝" copper tubing when utilized in space constricted workspaces. Uniweld's Type 17 tips fit United's Part No. 71 and Part No. WH550 welding handles. This product is proudly manufactured in the US and is 100% flame tested.
Uniweld H32AB Oxyacetylene Twin Welding Hose, 12.5 feet x 3/16"
The Uniweld H3AB Oxyacetylene Twin Welding Hose offers a seamless connection for A = ⅜" – 24 x B. It as well offers a fitting connection for B = 9/16 – 18. This is a grade R twin welding hose that is color-coded, green for oxygen and red for acetylene fuel gas. It features 8-sided crimp ferrules which can withstand a maximum W.P of 200 PSI. The Uniweld H3AB Oxyacetylene Twin Welding Hose is proudly manufactured in the US.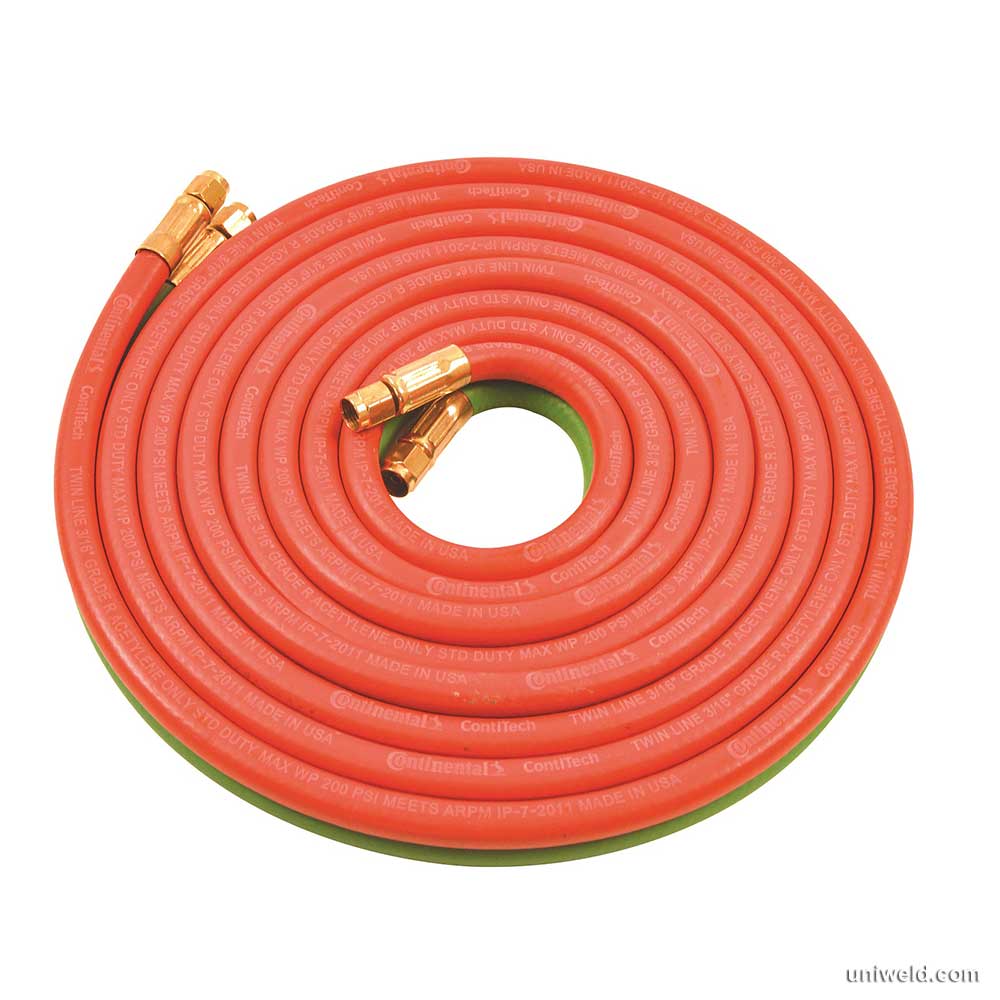 Uniweld DABOX-A, Da Box A Style Heavy Duty Welding and Cutting Outfit
The Uniweld BABOX A Style Heavy Duty Welding and Cutting kit can be mounted on your truck for total mobility and security. It comes complete with a welding handle, a cutting attachment, cutting tips, weld/braze tips, a heating tip, an oxygen regulator, an acetylene regulator to name just but a few. Its solid steel hinged cabinet door effectively protects its various components from both theft and damage. While at the same time, permitting quick and convenient access to the torch equipment.
Uniweld is one of the top vendors of welding equipment featured at Eureka Oxygen.