Happy New Year! We believe a New Years celebration isn't complete without some fitting resolutions. So, maybe one of your New Years resolutions is to learn and master an agreeable DIY hobby and perhaps you have a particular preference for metalwork projects such as welding in all its glory. Well, congratulations you've certainly made an excellent choice! To this end, as a beginner, you have probably done some extensive research into the different welding methods out there. You now definitely understand the disparities between MIG, TIG or even stick welders. You've also probably invested in the right welding equipment and welding supplies, and you're all set to begin. As a beginner, the most important thing is to gain some experience and confidence to become a good welder. This is where beginner welding projects come into the picture. You'll need to start with projects which will enable you to learn the basics of this art before you can progress to more complex welding projects. This may include:
How to cut stock metal properly

How to properly prepare your workpieces

How to fit joints together properly

How to use magnets

How to use clamps

The importance of a good hammer

The right

welding equipment

to use

Welding safety
The two beginner projects that will be outlined below will teach you all these fundamentals. Also, these projects are meant to challenge your aptitude and help you in building a sound welding skill set. Whether you wish to be a DIY welder or pursue a career in the metalwork industry, the first step you need to focus on is one welding process and master it before moving on to other processes. It is always essential to be completely comfortable with your first pick to avoid getting overwhelmed or getting burned out. At the same time, it is prudent to have some clearly defined goals for each project you undertake. For instance, your first goal might be to learn MIG welding, in say, two months and create clean stringer beads on mild steel with upwards of ½ " thickness. With this clearly defined objective, you will be able to commence practicing with varying gauge metals. You may also be able to comprehend the properties of the metals you select and how heat affects them. Well, with that fully understood, let's now proceed with the first beginner project.
The bowl beginner project 
The bowl can be a suitable welding beginner project for a number of different reasons. In the first place, it will instill in you basic skills including:
The right body placement to a stagnant workpiece

The effective handling and utilization of a MIG gun

How to view the workpiece through a welder helmet or hood for the first time

How to properly clean and prep your materials

How to support your hand by making use of a workbench

How to utilize wire snips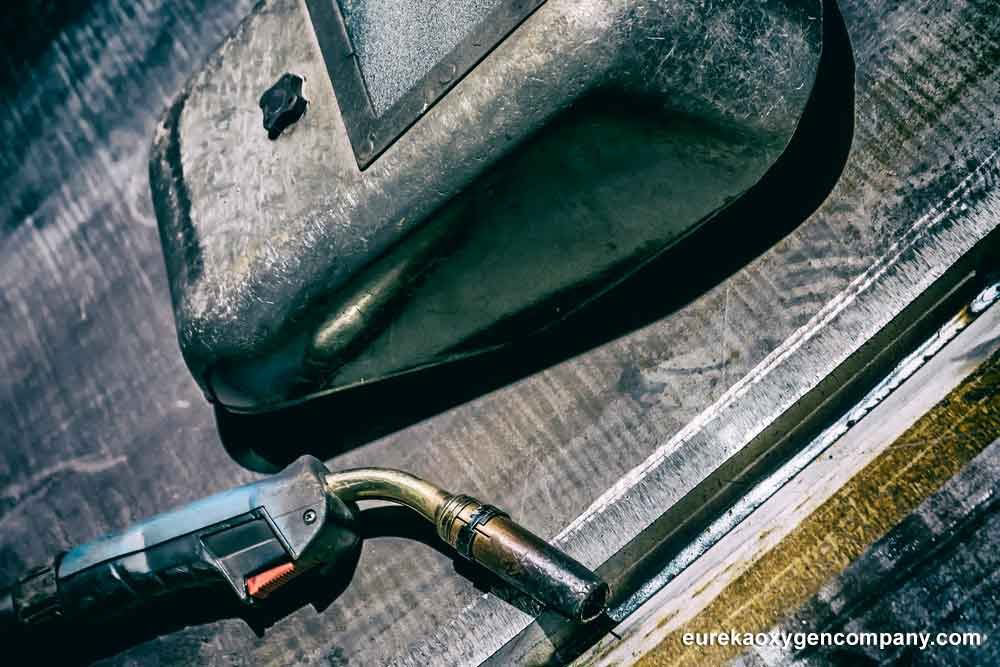 The bowl beginner project welding equipment and supplies 
You'll need:
A good welder

A workbench

A

welding

helmet or hood

A pair of

welding

gloves

Wire snips

A steel mixing bowl

Metal washers of mild steel of varying sizes

Welding pliers
All of these items can be purchased at https://eurekaoxygencompany.com/
This project can be fully executed in no more than two hours. You'll also be able to complete a real project and learn two major welding skill sets. When you are done, you will have a great-looking bowl that you can be proud of and which can serve as a visual reminder of the new skills you've learned.
The cube welding beginner project 
 For this welding beginner project you'll need:
8 gauge ½ " tubes around 9 feet in length

A welder

A vise

An angle grinder with a cutting stone

A ball peen hammer

2 clamps

Small shop magnets

A band saw
The cube project should take around four hours to finish. It will involve standing for longer, bead welding, tack welding, fitting joints together, clamping workpieces, and grinding down welds. All this will go a long way in building on the welding skills you learned on the bowl project. Hopefully, with the skills you learn with these two small projects, you will be in a position of tackling bigger and much complex projects.
It is always wise to have the right welding equipment and gear to minimize the risk of safety hazards. As such, you'll need a quality welding hood, welding helmet, or even safety glasses to protect your eyes from UV radiation. You will as well need a good pair of welding gloves to protect your hands from splatter. Not to mention a welding jacket, a thick pair of denim pants, and fire-resistant work boots.