The Tweco story began way back in the late 1930s, 1936 in particular, when Ray Townsend had the bold and hitherto unheard of idea of improving contemporary welding quality by improving ground connections. Shortly thereafter, Townsend started marketing his novel "redhead" ground clamp to wide acclaim. A year later, the name of the brand he founded, Townsend Welding Equipment Company was abbreviated to Tweco. Townsend then began selling his innovative products nationally. 
Over the course of the consequent decades, Tweco persisted in the expansions of its product lines. This move enabled it to diversify its welding accessories offerings to include metal arc holders along with quick-connect cable connectors. In the long run, Tweco went on to unveil a new MIG welding gun, which immediately proved to be a gamechanger that revolutionized the entire industry. The company went through a series of acquisitions, first by Pacific Lumber Company in 1981 and then by Thermadyne 6 years later. Throughout this period of time, Tweco remained at the forefront of innovation in the sector and retained its hard-won reputation for churning out high-quality products. This continues to be the brand's never-changing focus, which still continues to this present age. 
Tweco was very recently acquired by Victor/ESAB, and still pushes its drive to be a market leader in the welding supplies industry. At the same time, its new owner has started consolidating its various brands including Thermal Arc Machines, going through a facelift and christened with a brand new name. As for Tweco, it has solidified its credibility and is now a household name, continuing a long tradition of strong welding equipment sales nationwide and even globally. Let us now review two of the most outstanding products from this one of a kind brand.
The Tweco Fabricator 141i Multi Process Welding System (W1003141)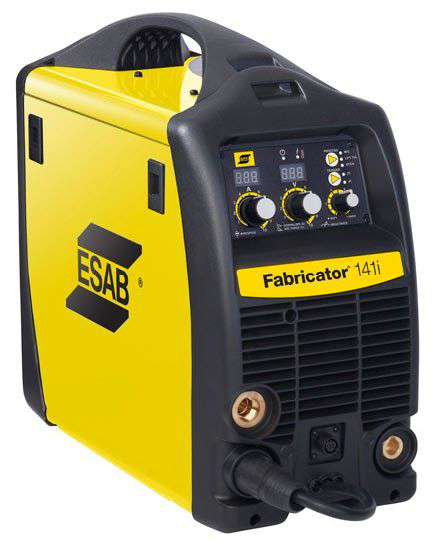 The Tweco 141i is a 3-in-1 welding system that is well noted for the remarkable flexibility and versatility it effortlessly brings to the table. This product may be configured to execute a grand total of three different welding processes in a markedly convenient and hassle-free manner including the MIG, TIG, and stick methods. Its range varies from one mode to the next to seamlessly suit the user's unique requirements and preferences. In the metal inert gas (MIG) mode, the duty cycle stands at 15% at 140 amps or 20% at 90 amps. On the other hand, the range for the tungsten inert gas (TIG) mode stands at 15% at 140 amps or 20% at 100 amps. The stick welding mode, on its part, has a range of 15% at 90 amps and 35% at 80 amps. Also, while set on the MIG mode, in particular, the Tweco 141i can function smoothly at a deficient input power of 115 volts, which is at the moment the standard household current.
This innovative product also comes complete with a thermal overload protection functionality that prevents overheating and effectively does away with the risk of associated overload accidents. This given feature of the 141i as well makes sure its engine's lifespan can be prolonged with the passage of time. On the other hand, this 3-in-1 industrial equipment weighs a paltry 45 lbs which goes a long way in enhancing its exceptional portability. To this end, you may be able to transport and make use of it in virtually any location. Other notable features of the Tweco 141i include digital meters, a trigger control and quick charge polarity.
The whole package includes an electrode holder, four general-purpose stick electrodes, a ground clamp with a 10-foot lead, a 10-foot power cable, a Tweco Fusion 140A MIG gun with a 10-foot cable, drive rolls, a regulator, and a 12.5-foot hose. Lastly, this 3-in-1 welding system comes complete with a comprehensive setup chart to make sure the user can efficiently tap into its optimal performance. The Tweco 141i may be utilized in a variety of different applications such as automotive repairs, sheet metal and light fabrication, farm and ranch equipment repairs to mention but a few.
Tweco 1017-1321 Fusion 140 MIG Gun with Thermal Arc 8-Pin Rear Connection, 10-foot length
The Tweco Fusion 140 can be the perfect solution when it comes to a wide variety of welding applications. This varies from light to medium gauge work including muffle and auto body repairs, the repair of garden or farm equipment, fence and iron gates fabrication, architectural metalwork and the list goes on and on. Other notable features of the Fusion 140 are both Lincoln and Miller thermal arc rear connections, an ergonomic handle that features a diamond pattern facilitating for a more secure grip, and a long life micro switch trigger design. Finally, this product carries a 30-day manufacturer's warranty. 
Eureka Oxygen is a top supplier of professional quality welding equipment, supplies and accessories, including those from leading brands like Tweco.