Welding is an essential element for constructions, fittings, and various industrial operations. The quality of welding operations depends critically on the quality of the tools and equipment used. If you are looking for the best quality and most economical solutions for your welding needs, Eureka Oxygen is the right place for you! We are one of the leading choices for premium industrial welding equipment and in order to bring that about successfully, we partner with the most respected, top-ranking brands in the industry. One such trusted brand is a premier partner, Thermal Dynamics. 
Thermal Dynamics is one of the most popular brands among professionals for its cut quality, cut speed, ease of use, and overall efficiency. Let us take a closer look at Thermal Dynamics and its high-quality products and optimum services.
Thermal Dynamics
Thermal Dynamics is one of the leading names when it comes to the most advanced automated plasma equipment in the industry. Their stellar integrated products are manufactured to provide you with the best performing and economical solutions.
1. The A-Series
The A-Series plasma systems are designed for low-cost and high-quality air plasma cutting. It has the SL100 SV 1Torch with standard ATC Quick Disconnect. The 1torch start technology has several benefits, including eliminating electronic interference, a quick and reliable start, and a strong pilot arc to cut through heavy plates. Thanks to its auto-pilot restart, SA-series can also pierce expanded metal easily and quickly. 
Some other features include:
Light-weight, compact design and convenient mounting makes it easy-to-use

A Powerful duty cycle of 80% to manage all-day production

The valve in the torch decreases cycle time between parts

Interface connection on the back of the power supply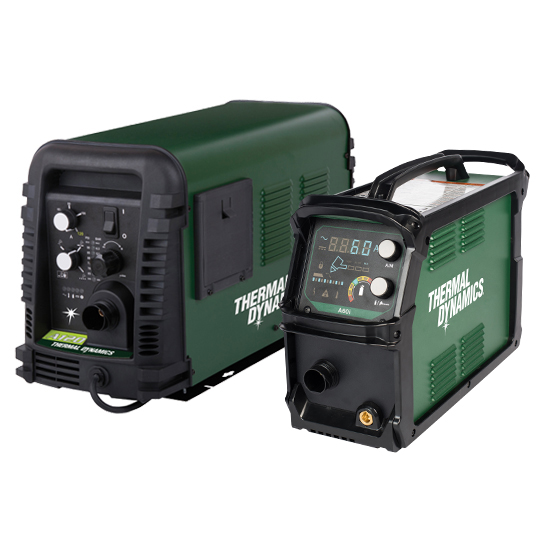 2. Auto-Cut XT
The Auto-Cut XT plasma systems provide economical air plasma cut operations with extraordinary cut quality for aluminum and stainless steel. It delivers impeccable flexibility and reliability for even heavy plate cutting applications. 
Some other features include:
Cut fast with air-air

Full-featured gas control

Can cut or think all kinds of metals

XT 301- torch technology

Water mist secondary to optimize non-ferrous metal cutting.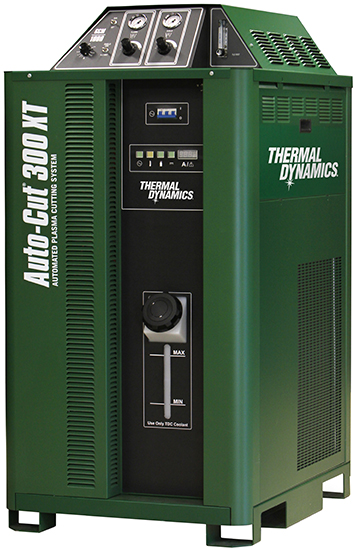 3. Ultra-Cut XT
The ultra-Cut XT plasma systems offer the best precision cutting on mild steel, Aluminum, and stainless steel. It delivers the epitome of productivity, flexibility, and confidence in high precision plasma cutting. This next generation of high precision plasma system works intelligently, and you will not have to worry about choosing the right system.
Superior cut quality means better productivity

Higher productivity delivers excellent profits

Its added flexibility allows it to expand as your cutting goes

Water mist secondary enhanced non-ferrous metal cutting.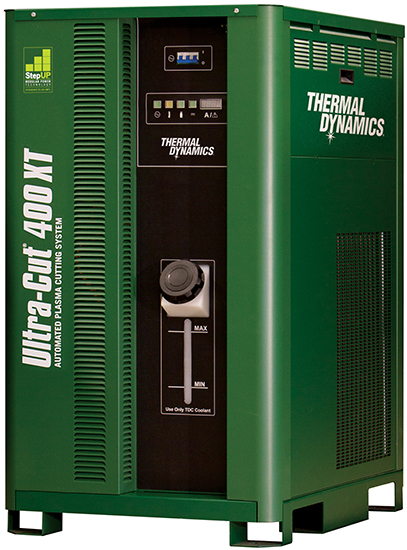 Advantages of choosing plasma systems from Thermal Dynamics
Thermal Dynamics does not only provide you with plasma solutions that work best for you to help you produce excellent outcomes, they are also quite economical. Apart from that, there are various benefits offered by their integrated solutions. These benefits including the following:
Pocket-friendly:

Choosing Thermal Dynamics helps you gain efficiency and productivity that ultimately helps you lower the cost. Moreover, it has lower initial costs, more utility cost savings, lower downtime between cuts, and quicker servicing and repairs. Therefore, Thermal Dynamics is essentially easy on your budget.
Superior Quality:

Their entire suite of products will deliver you improved cutting performance over top competitors. They guarantee that their plasma systems provide the best quality and most efficient cutting of mild steel, aluminum, and stainless steel. Moreover, they offer ease of use with increased cutting speed and precision.
Complete Retrofit Solution:

The plasma solutions by Thermal Dynamics do not require you to replace the existing cutting machine completely. They provide solutions that meet your needs! They are unique that way, as they are the only manufacturer that offers a complete retrofit solution, saving you from the added expense of a new cutting machine. In-shop service and installation are also included.
Reliable Team of Experts:

The large team of well-learned researchers and professionals at Thermal Dynamics are always in search of a better solution for customers. 
Final Thoughts
Thermal Dynamics is a known name in the world of welding, and we couldn't be happier to be partnered with them. As a leader in welding equipment and supplies, specifically plasma solutions, Eureka Oxygen offers these flawlessly integrated solutions for all of your welding needs. We guarantee nothing but the highest level of customer satisfaction, quality of products, and a knowledgeable team of experts to assist you in your purchasing decisions. Stop by our store or give us a call today at (707) 443-2228!