Eureka Oxygen is one of the leading and reputable companies for welding and its equipment. Above all, we are proud to be partners with premier companies, including Victor, which provides top-of-the-line welding equipment. Apart from just welding, Victor also provides a spectrum of gas equipment, including spray torches, cutting machines, gas regulators, etc. Looking at all the premium offerings by Victor, it is safe to say that they are an essential partner for Eureka Oxygen. Without any further ado, let us dive into more of what Victor has to offer.
Victor – Industrial Level Welding Equipment
Although Victor offers plenty of gas-related products, we are going to focus on their more modern welding equipment, which are top-tier in terms of quality. Here are a few of the welding equipment that is loved by all and promises 100% client satisfaction.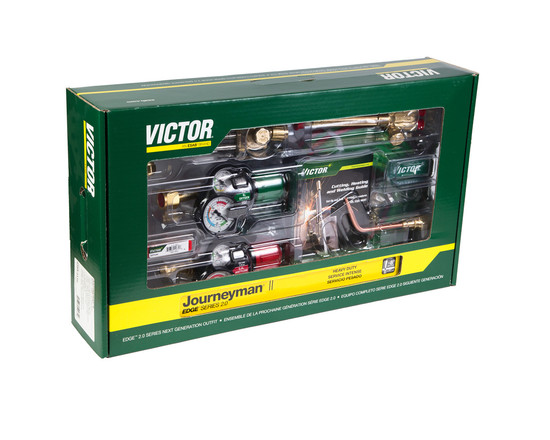 JourneyMan II Edge 2.0
The JourneyMan II Edge 2.0 is a robust outfit that comes with everything essential to get you started with welding. The package comes with a CA 2460+ cutting attachment, tip cleaner, welding nozzle, goggles, two EDGE 2.0 regulators, WH 315FC+ welding handle, tip cleaner, and cutting tip. 
This powerful outfit is able to weld up to 3 inches and cuts up to 8 inches with accessories. Consider this as your equipment and imagine the possibilities.
Portable Tote Kit
Unlike the JourneyMan II, the Portable Tote Kit is a medium duty portable outfit that comes with a rugged patented design and is capable of welding from about 1/32 inches to 1¼ inches with the proper welding nozzle. Moreover, it can cut from 1/8 inches up to 4 inches with a suitable cutting tip.
It also features soft-sided and striker goggles, built-in flashback arrestors, WH270FC-V welding torch, SR160 AR regulator, SR150 CR regulator, and much more!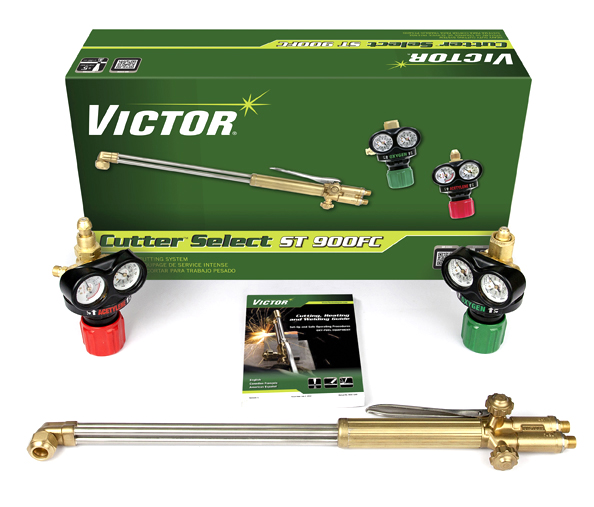 Cutter Select ST1000FC
Next up, Victor offers one of the best, if not the best, cutting outfit named the Cutter Select ST1000FC. This equipment offers you the flexibility to choose the accessory that you need and can cut up to 5 inches with the appropriate accessories. 
Additionally, it features a cutting torch that will operate on any fuel gas with the appropriate tip, CSR 350 Series Regulator, a regulator for acetylene, ST1000FC 21inch 90-degree Torch, and more!
Oxweld C-66-1400
These premium hand-cutting torches are specifically designed to carry out heavy-duty operations, for instance, reliable emergency hand-cutting and efficient scrap cutting. Also, it is available in multiple torch lengths from 26 inches to 72 inches. You can even order special torches of up to 16 feet.
This top-of-the-line cutting equipment features a cutting thickness that ranges from 3 inches to 28 inches with the proper equipment. Moreover, it offers fast and efficient scrap cutting, a long, trouble-free service life, and the torches come with a protective out channel.

Bulldog Torch
The Bulldog torch is one of the best in its class. Productivity and superior performance are assured with this torch, and its lightweight design and durability keep it ahead in its class. If you are into general and industrial level fabrication, or if you are into structural steel fabrication, this is the one for you!
In addition to all that, it also features high capacity straight torches, strength, and durability, and it conforms with the ISO standards –EN ISO 5172.

MT1065 Machine Torch
The MT1065 Machine Torch is excellent for multi-torch beveling applications. It comes with a three hose/inlet connection design and Series 1 cutting tips for the best performance. It prevents any reverse flow of the gases using the check valve. In case of a reverse flow, the disk assembly seals against the seat.
The unique straight-through design of this machine improves cutting performance and minimizes turbulence. It comes with a rugged brass body and torch head for maximum strength and durability. Lastly, it has a Pre-Drilled 1.38-inch diameter barrel for mounting flexibility. 

Oxweld C-100
The Oxweld C-100 is a machine torch that can cut 46 inches to 96 inches with the help of a medium pressure propane/NG. It is perfect for heavy industrial scraping and cutting, and it comes with a unique ball seat style cutting tips
In a Nutshell
Tried and tested by Eureka Oxygen, we can confidently say that Victor meets all the standards and provides the satisfaction that you deserve. We are proud to be partners with them and will continue to offer our clients the best welding and gas equipment! Apart from just these few popular pieces of equipment mentioned, there is a whole range of other products that you can see for yourself and choose the one that suits you the best!