Eureka Oxygen Company offers everything that you need for a welding job. From first-rate equipment and supplies to gas cylinders, we've got it all.
Being a welder, you must be familiar with how difficult or time-consuming the whole process can sometimes be. It is not as easy as it may look to a layman. The process involves gases, high temperatures, using the right equipment in accordance with the material and thickness of the metal, etc. This and the whole art of welding requires precision, good sight, steady hands, and a brave heart. 
 We work with many partners to ensure that our consumers get their hands on all types of equipment they may need. One of our well-known partners is Lincoln, who specializes in manufacturing high-tech stick welding supplies. Lincoln has a range of stick welding products that we find to be reliable, durable, and professional.
 Lincoln covers all types of equipment falling under welding, including cutting, guns and torches, welding gear, fume control, accessories, and even training. The range of stick welders it has to offer is outclass. There are professional stick welders, as well as stick welders for beginners, that are extremely user-friendly. 
There is the AC225 Stick Welder – K1170 priced at an affordable $494, it offers compactness and easy portability. It produces an incredibly smooth AC arc and a range of different materials can be welded with it, including stainless steel, low alloy, and carbon and also cast iron. It has an input power of 230/1/60 and processes sticks. This stick welder is easy to operate and install, thanks to the attached 6.ft input power cable and NEMA 6-50P plug. It has a full range 40-225-amp selector switch, which allows you to quickly set the welding current. The smooth arc makes welding a lot easier. This is best suited for all the small, easy, and beginner welding tasks.
One of the mid-range stick welders offered by Lincoln includes the Invertec V275-S (with Tweco style receptacle) – K2269-3. It is priced at $2650.19 and is an incredible machine for any stick welding task at construction sites outdoors. The IP23S rating for this welder allows it to withstand hard weather conditions. The output on this mid-range stick welder goes as far as 275 amps allowing you access to more electrodes which also includes an incredible E6010 performance.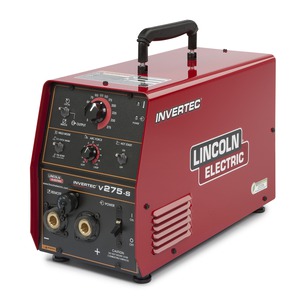 In order to enable both drag and whip techniques, it uses an electrode with a diameter of up to 5.5 mm. Moreover, to ensure that the welding arc is established without a high-frequency starting, it has the Touch Start TIG. You also have the option to choose a hot start. If you are dealing with a thin material, you can turn it off. In the case of a thick material that is dirty and rusty, you can turn it on. It also features a variable arc force dial allowing you to dial in the crisp or soft arc that you may want. With an input power of 208/230/380/415/460/575/1/ 3/50/60, the stick welder can process Stick, TIG, Gouging.
A more professional and expensive stick welder Lincoln has to offer is the idealarc3R-500 Stick Welder – K1286-16. It is priced at a whopping $6,075.59 but is an amazing value for the money spent as it falls under the heavy-duty stick welding category. It has the ability to produce an extremely smooth and high-quality arc, whether you are using low hydrogen, stainless steel, cellulosic, or hard facing electrodes. As a result, the welding results from this stick welder is always consistent. 
The ampere range on this stick welder ranges from R3R-500 at 72-625 amps. In order to ensure easy operation, a calibrated current control knob is added, which allows the welder to easily set the procedure settings. The input power for this one is 230/460/3/60, and it processes Stick, TIG, Gouging. 
 Lincoln offers a diverse range of stick welders apart from these three. There are a number of stick welders at different prices and some even more expensive than the idealarc R3R-500. You can choose the most efficient welding stick for your specific needs. 
Lincoln products also include all other welding equipment that you will require to complete your job. This versatility in product range makes Lincoln one of the best stick welding manufacturers out there. Whether you need to weld outdoors on a construction site or at home, Lincoln has got you covered. Their stick welding product range is known for its efficiency, reliability, and durability. Eureka Oxygen Company has partnered with a wide variety of incredible vendors, and Lincoln is definitely top-notch when it comes to quality!