Miller is one of the most prominent names in the welder industry. They provide a full spectrum of welders for MIG, TIG, stick, submerged arc, and spot welders. There's also a wide array of wire feeders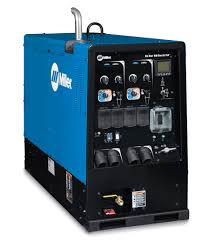 Miller machines are always at the top of their class, both in terms of power and durability. The Miller 120/240V welder, a MIG/Flux core welder, is a must-have for those just starting their MIG welding journey. It's simply one of the best choices for a beginner. It is efficient, dependable, and versatile. This is what makes it so great for a novice, as it allows you to experiment with different materials and thicknesses to develop your welding skills. You can even do gas welding with it. If you want to learn to weld, Miller Electric will be one of the most forgiving machines you can find.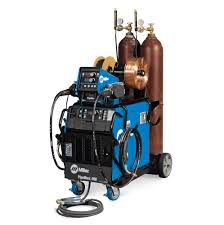 If mobile or off-grid welding is in your future, a variety of engine-driven welding solutions are available through Miller as well – MIG, TIG, or stick applications can be implemented with a gas-, diesel-, or propane-fueled engine designed for the task (which can also function as a back-up generator at up to 27KW output rating). Perhaps the most all-purpose device any welder could want is the Bobcat 200 Airpak, which functions as a high performance air-compressor, a 5.5KW generator, and a workhorse of a stick welder.
There's a reason Miller is the world's largest manufacturer of welding equipment: their products and service are second to none. Their machines' reliability and quality, and company responsiveness have made them renowned around the world for their blue machines. The pros at Eureka Oxygen would love to help you select the best equipment for your needs!